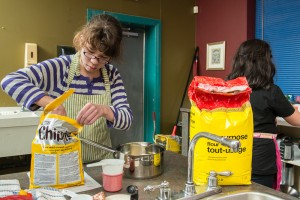 RMACL's Child and Youth Department provides a range of services for children and youth who have, or are at risk of having, a developmental disability or delay. For many families, these services play a valuable role in helping encourage their child's success in a variety of settings. The programs offered by the Department include Infant Development, Supported Child Development, child and youth workers, respite and inclusionary supports for community child care programs.
All Child and Youth programs are family and child centered. The goal is to act as a support system for the family by enhancing and expanding the parent's relationship with their child. We work with families, encouraging them to participate in meaningful ways in their child's development, and providing them with information and other useful resources. Every day we build on children's unique gifts so they can successfully live, learn and play in their community.
Our Child & Youth Services Include:
Early intervention services, for children from birth to age 3, to help parents recognize, understand and adjust to their child's developmental needs.
Support for community and "in-own-home" childcare settings for children from birth to age19 who have a developmental delay or disability. The delay or disability may be in any cognitive, physical, communicative, emotional, social, or behavioral area. The program also supports children who have exceptional health care needs.
Mentoring, instructional and therapeutic support for children and youth, from age five to 19, focusing on their behavioral, emotional and social growth at home, in school, and in the community.
Functional behavioral assessment, positive programming and instructional strategies, with a goal to better understand the causes of a child's behavior and develop skills to effectively address behavioral concerns.
Information on supports and resources available to families who have a family member with extra needs. Support groups and one on one service are available.
Helps families with a temporary break from the day to day responsibilities of caring for their child.
Provides staffed and foster models of support for children and youth with special needs.