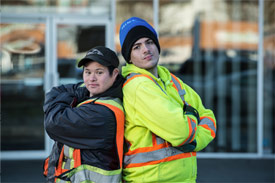 RMACL has historically offered a variety of co-operative and self employment business opportunities for clients. With a commitment to providing both socially responsible and socially inclusive opportunities the association continues to strive for excellence, leadership and innovation.
While many of these are independently funded and self sustaining some are supported by financial partnerships between RMACL and government organizations such as CLBC, Service Canada and Employment Services BC.
Current business ventures are:
Ridge Meadows Enterprises: Residential & Commercial Yard and Waste Management Services
Greenwood Industries:

Kingston Street: Light Packaging and General Contracting Services
Dewdney Trunk Rd: Woodshop Fabrication and Assembly Services

Kingston Business Centre: Packaged Office Supports and Meeting Rental Facility
Vicunia Art Studio: Full service art studio with formal instructional components, commission art sales and gallery services.
A Number of Entrepreneurial Services: For example… newspaper and flyer delivery, light office services, janitorial, jewelry making and gift card creations.
For more information or if you have any questions about these programs please contact Roger Larmor @ 604-467-8700 Ext 110 roger.larmor@rmacl.org