VanSack Textiles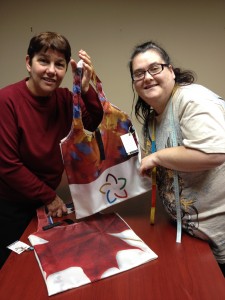 Owned and operated by Ridge Meadows Association for Community Living, VanSack provides an environmentally friendly service and a unique employment training opportunity for participants.
Their most recent contract was to create reusable shopping bags from recycled civic banners for the Downtown Maple Ridge Business Improvement Association or "DMRBIA." Ineke Boekhorst Executive Director DMRBIA who initiated the project, reports that customers love the functional and practical design and appreciate that the civic banners have been repurposed and not sent to a landfill, which was the purpose of this worthwhile community project. The Banner Bags are now available for purchase directly from their downtown Maple Ridge offices and customers may call them directly at 604-467-2420 to make a purchase.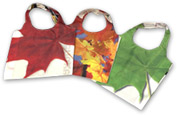 However, environmentalism is only one benefit of the VanSack program. Supervisor Karesa Curie notes that "With recycled fabric there is a job for everyone, from washing and folding to cutting and assembling or tagging and packaging for retail sales. We are able to engage and provide a variety of skills training opportunities and trust that there are many jobs in the community that will welcome the transferable skills participants will gain. It's a great learning opportunity and a rewarding experience for all parties involved.
To find out more about VanSack visit their website at http://vanSack.ca or look for their products at local Farmer Markets and gift shops near you.