Generosity Blooms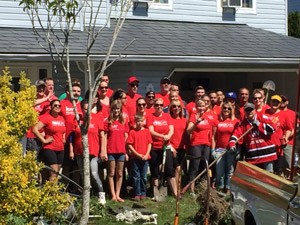 This past spring, local realtors, friends, and family from Keller Williams Elite
Realty teamed up to share with RMACL their amazing community spirit and passion for helping others. The teams were assembled and led by local realtor Tanya Croteau who knew that RMACL had two group homes in need of some exterior updates and landscape renovations. Tanya felt that the Keller Williams "Red Day" program could help and arrived with her team one sunny and very hot day in May to get to work.
Dodi Smiley, Practice Lead, and Robyn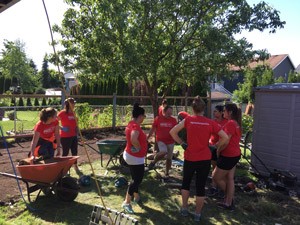 Batryn, Supervisor of one of the group homes, report that the residents and staff were simply awestruck by the number of people who showed up. "It was amazing, there were all these people helping and working so hard! They didn't just show up and lay some turf. They moved huge rocks, they painted, they fixed fences, they levelled the ground, packed in sand, they brought
flowers, decorations ,pillows, patio furniture and at one residence they donated a
dishwasher and at another they installed a pool!"
Jason Banbury, a Director with RMACL, advised that having the outside space made
welcoming and inviting has given the residents not only safe and beautiful
surroundings but most importantly it has helped residents feel welcomed and
embraced by the community at large.
And for the folks living in the homes… just one look at them enjoying the space
all summer long says it all!
To find out more about Keller Williams Red Day event please visit their website.
RMACL would also like to thank the following RED DAY sponsors who helped make it all
possible:
Dulux Paints
Subway
Triple Tree Nursery
Meridian Mortgage Services
Highland Redi-Green Turf Farm
Tate Financial
Project Lawns
PPG
McErlean Mortgages
Green Mortgage Team
Northwood Home Inspections
Payne & Associates
Tim Hortons
Haney Builders
Marion Photography
Meadows Landscape Supply
TD Aly Kassam