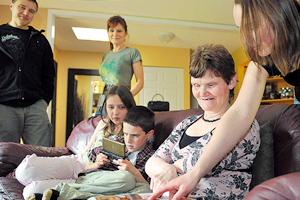 Home sharing is an option where an adult with a developmental disability shares a home with someone who is contracted to provide ongoing support. It is a lifestyle choice that takes careful planning and consideration.
When you open your home to a person with a developmental disability, you are making a long-term commitment to be an advocate, mentor and support provider. You will teach new skills, assist the individual to connect with the community, help them to develop and maintain relationships, and encourage them to make choices that will lead to a satisfying, safe and productive life.
Home Sharing Providers come from all backgrounds and are of all ages, genders, races, nationalities, and religions. They are single people, single parents, empty nesters, and two- parent families with children. They may or may not work outside the home. And there are many different arrangements that can be developed based on individual and provider interests and preferences. Some homes have a basement suite, others are apartments with a spare bedroom. Some may have been adapted to be wheelchair accessible, others have not.
Home Sharing Providers undergo an intensive screening process that includes a criminal record search, medical clearance, reference checks, interview by the person with a disability and his or her family, and a detailed home study with questions about lifestyle, personal supports, values and family dynamics.
RMACL takes great care in the process of matching people to each other and assuring that relationships work. Matching means a harmonizing of values, interests, and mutual commitments. As such, approval as a Home Sharing Provider does not guarantee that you will be selected to provide home sharing services.
RMACL provides ongoing educational opportunities for Home Sharing Providers through its Training and Development department.
For more information please contact our office or fill out the join our team form.