Vicuña's Upcoming Art Shows
Spring has sprung and Vicuña ART Studio is blooming with pride at not one but two amazing art shows!
The first is held at the Maple Ridge ACT Theatre in the beautiful community  Art Gallery. Works can be viewed online and in person. The show highlights the amazing work of not only our very own Vicuña Artists but a variety of other renowned local area artists. The show is a splash of positivity and beauty and all are invited.
Where: The ACT Maple Ridge
When:   April 17, 2021  – June 26, 2021
To View or Reserve your FREE timed entry ticket visit theactmapleridge.org/art-studio-tour
The second show will be our annual Spring Art Show! Once again we are offering a virtual event and hope to welcome everyone for a live streaming Friday, May 7th at 11 AM.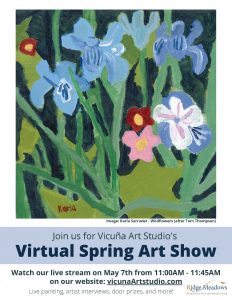 This event is a true showcase of the Vicuña Artwork and for those of you who have followed our artists for some time will be assured of new works and creations.
These original works make great Mothers Day presents and many original works will be for sale and print by arrangement
Find us at vicunaartstudio.com/art-show