Turning 18 Soon?
Are you the parent or caregiver of a youth turning 18 soon, and diagnosed with a developmental disability?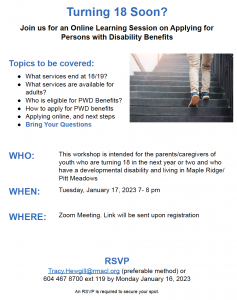 Join us for a Q & A session Tuesday, January 17, 2023 7- 8 pm via ZOOM!
Get information on who may qualify for PWD benefits, and how to apply using the My Self- Serve portal. Bring your questions!
To register :
Email Tracy.Hewgill@rmacl.org (preferred method) or call
604 467 8700 ext 119 by Monday January 16, 2023
A link to the Zoom Meeting will be sent upon registration