Pianos on the Street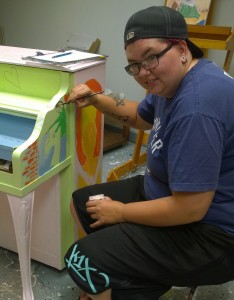 This year RMACL's very own Vicuna Art Studio has been asked to participate in "Pianos on the Street" a public music and art project hosted in various cities across BC.  The project has been brought to Maple Ridge in thanks to the efforts of Ineke Boekhorst and the Downtown Maple Ridge Business Improvement association who lobbied to have a piano placed in the downtown core.
"Pianos on the Street" aims to build community links and enhance connectivity through art and music and partner with select groups that represent "diversity within the community." Consequently the Vicuna artists who all have a developmental disability are a wonderful fit and addition to this year's list of contributors. The Vicuna artists will also be joined by the District of Maple Ridge's Artist in Resident "Robbi Smith" who will add some script and font to help highlight the theme of "Compassion." Inke Boekhorst had suggested this theme as a means of raising awareness about the issue of homelessness and the need to respond to this crisis with compassion.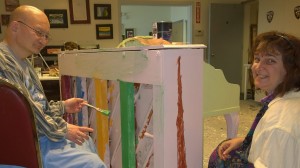 Vicuna Artistic Director Ilse Philips elaborated that the project speaks to the wonderful bridge that music and art can make between people. Music and art can spark a sensitivity and awareness that can be overlooked in todays busy world…a bit of music and a bit of art can quite simply breakdown barriers and help us become a more inclusive and welcoming society for people from all walks of life."
There will be a grand unveiling of the piano Wednesday July 8th at the Bandstand at the Memorial Peace Park in downtown Maple Ridge and remain on display until September. Everyone is encouraged to come out and enjoy the celebration the art and of course…the beautiful music!
For more information about this project visit http://supportpiano.com/