Fun with Friends!
Make friends and have fun!
Join one or more of our groups: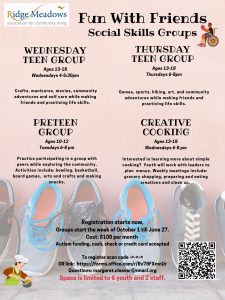 Pre-Teens Tuesdays:  6:00 to 8:00 pm, ages 10-12.

Practice Participating in a group by exploring the community and playing games, with a focus on learning life skills, including social skills.
Wednesday Teen Group:  4:00 to 5:30 pm, ages 13-18. The focus

 is on self-care, manicures, games, crafts, and community access.
Wednesday Creative Cooking:  6:00 to 8:00 pm, ages 13-18.

Weekly meetings include budgeting, grocery shopping, creating menus, cooking, and clean up.
 

Thursday Teen Group:  6:00 to 8:00 pm, ages 13-18.

Games, sports, hiking, art, and community adventures.
Embedded in these supported activities are subtle tips and supports for participants to learn positive ways to connect with peers, make friends and boost both their social savvy and confidence.
To register for one or more groups use the email link or QR code below. 

For more information check out the poster.
Registration is required for all programs. We are unable to accommodate drop-in youth. Click Here to Register Today!
Address: Child and Youth Care Building (HQ) 22345 119th avenue Maple Ridge.
For More Information contact Margaret.Cleaver@rmacl.org or 604-466-1144 #3