Virtual Art Show On now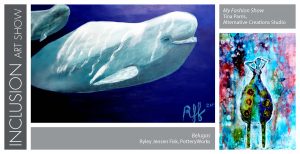 Vicuña Art Studio is proud to once again participate in the 16th Annual posAbilites Art Show!
This annual event showcases the works of people with diverse abilities. It is held every October and coincides with the provincial wide,  month-long celebration of Community Inclusion.
This year the event moves online to safely celebrate creativity, community, and diverse abilities. The show features individual works and collections of photography, paintings, illustrations, pottery, glasswork, jewelry, fabric art, and cards! Many of the exhibits are for sale and can be purchased directly from the artists.
To view, enjoy and purchase follow this link! www.inclusionartshow.com