The Fraternal Order of Eagles…
The Fraternal Order of Eagles aerie #2831 has been an appreciated supporter of our agency for many years.  Not only do we feel privileged to continue to receive an annual donation, their Ladies Auxiliary has also "adopted" our Family Support Program, and provides financial support directly  to our families in need.
In the past year alone, the Ladies Auxiliary has provided more than $3,500 in funding directly to RMACL families in need. Funding has helped to pay for program registration fees, adaptive seating, specialized foot wear, an adapted bicycle, playground equipment, and safety equipment.  This past year, they also donated a car load of back packs, filled to the brim with school supplies.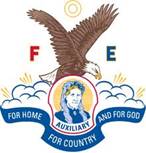 The Fraternal Order of Eagles is a non-profit society of "people helping people", comprised of volunteers who have graciously donated their time.   The local aerie meets bi-weekly at their lodge at the base of Fern Crescent in Maple Ridge, and has been active in the Maple Ridge/ Pitt Meadows community for more than 40 years.
The Ladies Auxiliary currently provide catering services within our community in order to raise funds to share with families and individuals in need.
For more information about the Fraternal Order of Eagles, please see www.foe.com. For information about the local aerie, please contact  Yvonne Blom 604 467 5471,  or Gerry Acton 604 467 9132.
The support of groups such as the Fraternal Order of Eagles helps us to better support our families.
Should you have a child with Special Needs and require help in applying for financial assistance, please contact Tracy Hewgill at Ridge Meadows Association for Community Living at 604 467 8700 ext 119 or Tracy.Hewgill@rmacl.org.