Music Heals Fundraiser
We love our Music Therapy program at RMACL  and invite you to help us support a major contributor and supporter of this  valuable therapeutic program "Music Heals."  (See our poster in support of this opportunity here).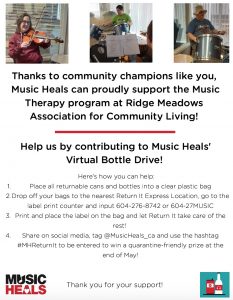 Music Heals is a not for profit charity that supports a wide range of music therapy services to communities in BC and across Canada. Funds raised increase access to music therapy for patients in children's hospitals, senior's centres, palliative care, AIDS & HIV programs, at-risk youth, habilitation, and bereavement support.
If you'd like to help it's as easy as 1,2,3!
1. Place all returnable cans and bottles into a clear plastic bag
2. Drop off your bags to the nearest Return It Express Location, go to the label print counter and input 604-276-8742 or 604-27MUSIC
3. Share on social media, tag @MusicHeals_ca and use the hashtag #MHReturnIt to be entered to win a quarantine-friendly prize at the end of May!
Please share this great opportunity to raise money and help support this wonderful organization…
To find out more about Music Heals visit their website at: musicheals.ca