Making the Best Of It!
RMACL extends its sincere gratitude to the many individuals, staff members, and others who have shown compassion, resilience, creativity, and positivity in responding to COVID 19.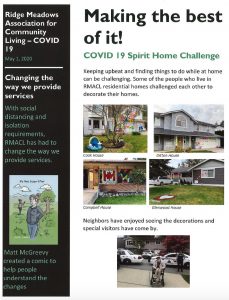 RMACL has revised service delivery models to support social distancing yet continue to deliver programs to meet the needs of the many individuals and families we support. Check out the link below to our Newsletter and learn about just some of the innovative and creative ways programs have responded. Find information about our  "Social Distancing" Comic book which is a wonderful tool for visual learners, our own Vicuña Art Studios " Instagram Art Therapy". Learn about our remote telehealth counselling services offered at no charge until May 30th.
RMACL  encourages all to  stay safe " Make the Best of It"  and remember …"That we are in this together!"