Jenny Ainsworth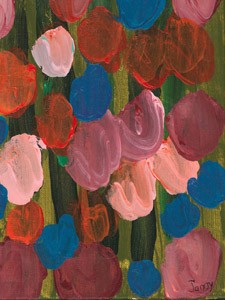 Jenny Ainsworth has been attending Vicuña Studio for nine years and is well known for her cheerful tulip paintings.
Jenny has a unique way she approaches her paintings, she paints upside down. She first creates the background then lets it dry, then she paints in her lovely shapes with various colours using a round brush. Once painted, she flips over the painting and… the tulips appear. Jenny works on several at a time, while each are in different stages of drying. Jenny's paintings match her personality, she is cheerful and positive, likes to be around others and loves nature.
The exhibition is held at the RMACL Head Office in the board room and will be on display September 1 through 30th. Reservations are not required to view but a phone call to main reception at 604-467-8700 is recommended to confirm if the room is available for viewing.
Exhibition:
September 1 to 30
Opening Reception:
September 1 from 10:30am – 11:30am
RMACL Head Office, Boardroom