New Autism Diagnosis?
This workshop is intended for the parents/caregivers of children/youth with an Autism or suspected Autism Diagnosis.
WHEN: Friday, March 6, 2020, 10 am-noon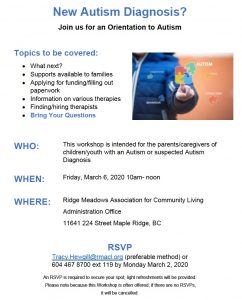 WHERE: Ridge Meadows Association for Community Living
Administration Office, 11641 224 Street Maple Ridge, BC
Please RSVP: Tracy.Hewgill@rmacl.org (preferable method) or 604 467 8700 ext 119 by Monday March 2, 2020
Light refreshments will be provided.
Note that this Workshop is regularly offered, however, if there are no RSVPs for this session it will be canceled.
Download the information poster here.